Given the recent release of the almost perfect replicas by What Price Glory, I thought it might be interesting to have a closer look at the existing variations of the original wrist compass.
This compass, official known as "Compass, Wrist, Liquid-filled", was made by two manufacturers, Superior Magneto and Taylor. They are not so rare and are quite easily found on eBay, although the Taylor models seem to be more desirable. I can only guess this is because these were only produced during the war. Superior Magneto continued making them until the early 1950s. So, expect to pay more for a Taylor in pristine condition, with original strap, and with the liquid still inside. As this is one of the few paratrooper items that are still affordable, I don't see why you should want a replica, except for re-enactment. They have gotten more expensive over the past few years, but the main reason why they are still affordable is that so many are still available. That's probably because it wasn't made as an Airborne-specific piece of equipment, but a general issue item, developed by the Corps of Engineers.
The compass is usually seen worn on the wrist (duh!), but also over the sleeve, the shoulder loops, webbing, or at the ankle over the jump boots. Wrist compasses were used both by officers and enlisted men, unlike the lensatic compass, or marching compass, which was normally reserved for officers, NCO's or men on a special mission.
Taylor
The compasses below are orignal Taylors. All three are marked Taylor on the bezel, but the first one is unmarked at the back and made of a lighter, more textured and more orange-brown bakelite. Which is why I show it here, because otherwise it's in used condition, but I have never seen another one like this (without any markings on the back). The white spots you see on the back are probably stains of glue.
This one here from Paul Reijnders is identical, except for the Taylor logo and the marking 'Rochester NY, USA' at the openings for the wrist strap on the back (which are invisible with the strap on it).
This strap is exactly the same as on the first one above, but I think these are not the ones originally issued with the Taylor compasses. From all the Taylor compasses I have seen in new condition, almost all have the plain dark brown strap as seen with the last ones below.
The third one is in almost new condition and has a smooth dark brown leather strap with a very small buckle, typical for Taylor compasses. You can also see the spiral inside. Only Taylors have this. This one still retains the damping liquid inside. There's small bubble, but it should be there. The needle is covered with luminous paint, but it no longer holds a glow. The bezel is slightly bevelled, which is also specific to Taylors. The bezel still turns freely. The back shows full markings. Note that none of these Taylors are dated.
At least they are not dated on the casing anyway. I posted this article in 2006, and it never occurred to me since to open one up. But the enterprising Henry Behrendt has done just that. He found out that the spiral inside is marked at the bottom. In fact, the entire compass itself is apparently sealed inside a clear plastic or plexi container, as can be seen in his photos below. The first one is clearly dated JUN 15 1944. The second one is not dated and has a code 3198.
To open a Taylor compass, look at the sides. See those holes? Stick a pin or a needle in there. It'll pop open. I wouldn't recommend this, though, if you don't really have to.
Inside, between the outer housing and the actual compass, there are 2 blade springs. This photo was sent to me by Jay Rogers. The red arrow points to the ridge in which the blade springs are seated.
It is likely that the Taylor compasses were glued together, then filled with damping liquid through that pinhole. On the pictures that people have sent me of opened up compasses, I can see no rubber gasket, but I do see traces of glue. When trying to find out more about what damping liquid was originally used, or what could be used to replace the liquid that has evaporated or leaked out over time, I found this very useful article on compass fluid. It recommends purified kerosene for all compasses (this can be bought in hardware stores as colorless lamp oil).
Below is a picture of a Taylor compass, new in the box, but the liquid is gone. Note that the dots are all there. The strap would be coiled around the compass. The box is unmarked. These mint and boxed Taylors have been turning up quite a lot from different sellers. I am guessing someone found a old box of these in storage. For about $125 you should be able to find one on eBay. That's until they are all gone and prices go up.
Taylor wrist compass with metal base

Joe McCabe sent me photos of this interesting addition to his collection. He's rightly proud of this special Taylor wrist compass with its bottom part made totally of aluminium. Not plastic, but its a perfect fit. It still works perfectly and has a nice patina. He has had it examined by many long established dealers and militaria collectors and all agree it is original, although they have never seen one before. It has no markings or date of manufacture on the aluminium part. It's unlikely that after the war anybody would have gone to the bother of moulding a replacement back at any stage. Too much time, effort and expense required to do that. It looks like it's either a very early war compass or a prototype. Later in the war all aluminium would have been set aside for aircraft production etc. If anyone has any insights to offer on this, please do.
Superior Magneto
This is a wartime model, as clearly indicated by the date on the side of the case: 6-44. It is in very nice condition and with a leather strap. You see that this strap differs from the plain Taylor strap in that it is chrome-tanned, thicker and ribbed. The actual compass case is rather identical, save for a few details. Most notably, there's no signature on the bezel, the bezel is not bevelled but flat, and the color is more olive green. Another difference with the bevel of the Taylor models is in the recesses for the luminous markers. On the Taylor models, you will find 1 arrow at North and 3 round holes at S, E and W. Each was filled with luminous paint (which you will usually find missing). The other markings are in white paint. On this Superior Magneto models, there are 4 round holes, and no arrow, all set between and not on the compass directions. Inside, there's no spiral and the needle is of a slightly different design. As with the Taylor, it was tipped with luminous paint, but it no longer holds a glow. Like the Taylor, it has a white painted arrow on the glass (plexiglass), but the designs of the arrows are different. The arrows are not just painted or transferred onto the glass, but engraved into the glass and filled with white paint.
Paul Reijnders sent me some pictures of a Superior Magneto compass that is identical at first sight. However, on closer inspection, the luminous markers on the bezel aren't round dots, but four small stripes, all at the same intervals as the dots on the other compass. The glass does not have an arrow, unlike all the other compasses on this page. This compass is not dated. The leather wrist strap is also of a slightly different design. The buckle is a bit finer and riveted onto the strap instead of stitched. From the various sales and auctions I have seen that the straps often differ somewhat from one compass to another, maybe because the straps were supplied to Superior Magneto by different companies? Only the Taylor Compasses quite consistently seem to have the same simple dark brown leather strap with the small brass buckle pictured above. Other than that, Paul's compass is identical to mine.
It's hard to see on these pictures, but the case of the one below is a bit greener. I believe this one to be of post-war manufacture, but I can't be sure as it is not dated. Another indication may be that this one is missing the 4 round recesses (dots) on the bezel, nor stripes that ever held luminous paint, just white stripes. The OD cotton webbing strap is missing its secondary blackened metal buckle. This seems to be common. Replacement straps are readily available, but let me be the one to tell you they all come from the same stock of post-war straps. Nothing wrong with that, but just so you know.
Dated compasses
I mentioned that one was dated. Only the Superior Magneto models are dated, and not even always. Ever since I found out about this, I started paying attention to this at sales and auctions and all dated compasses I have seen are identical in every small detail to the one in this article, except for the leather strap, which can be of various desings. For years, I have found none dated earlier than 6-44, which would preclude them from having been worn on D-Day. However, in December 2008, a reader drew my attention to an eBay auction of a 5-44 dated compass. See picture below. This dates it to before D-Day, but doesn't mean such compasses were used on D-Day.
In October 2019, Ron Wouters from Holland sent me photos of a Superior Magneto wrist compass dated 3-44. This makes his compass the earliest dated of that type I have come across so far. However, I am still looking for  photographic evidence that this type was actually used on D-Day (or anywhere else for that matter).
Again in February 2021, Ron Wouter informed me about a 4/45 dated Superior Magneto compass. So that would be the latest date I have seen so far.
If you have a close look at the pictures in Michel De Trez's books on paratroopers in Normandy, you will find only 1 with a wrist compass, and it's a Taylor (American Warriors, p. 192). In both books you will find a lot more pictures of paratroopers wearing the standard lensatic compass in a waterproofed pouch on the web belt, the suspenders or the ankle strap of their trench knife.
1945 Superior Magneto wrist compass in box
Chris, a fellow collector from Germany sent me these photos a Superior Magneto wrist compass, new in the original box. The box is marked Compass Instrument and Optical Co. N.Y. and it comes with the sales receipt of a sporting goods store. So it looks like it was sold post-war for boating or other outdoor activities. But the compass itself is dated 4-45. A very rare and interesting find!

All photos copyright © Chris Öhm-Kühnle
Earliest Superior Magneto wrist compass from 1943
This picture is from a WWII manual about aircraft survival equipment. It is dated 23 November 1943, and it clearly shows a Superior Magneto wrist compass with a canvas wrist strap. That's much earlier than the earliest-dated Superior Magneto compass that we have found so far. Marcel Struijk sent me these pictures.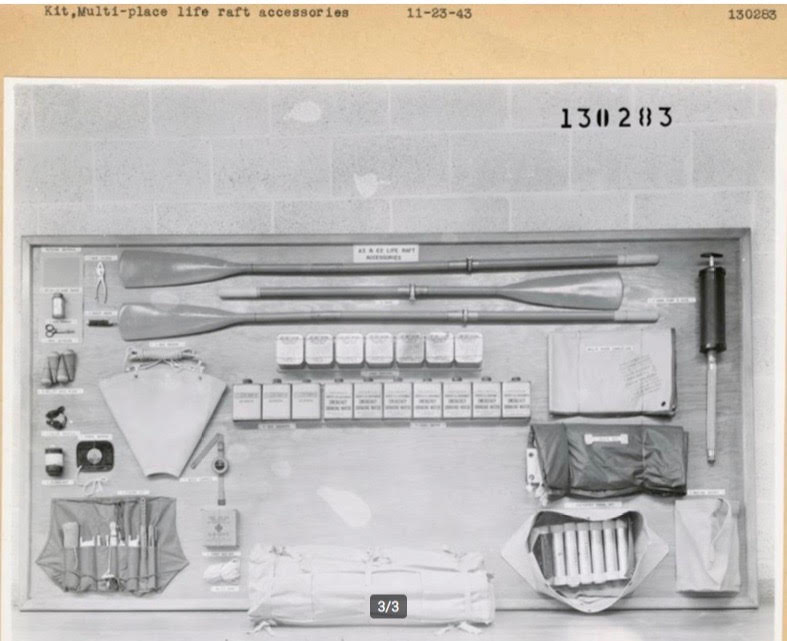 A second picture showing more detailed photos from the kit. The color photo is from https://www.wwiisurvivalequipment.com/life-rafts-usaaf
Post-war Superior Magneto compasses
Superior Magneto also made other types of wrist compasses after the war. First is the Model 1949, but it looks nothing like the wartime models with the lense cover and the dark OD green strap.
Second is this example dated 9-50. The reverse is more similar to the WWII model, but again, you can't mistake it: it is smaller and it has a brown anodized aluminum case. It has a turning bezel, but the gradients are underneath the glass prism.
Copyright Kitefarm.
Waltham wrist compasses
For the sake of completeness, I will mention that another wrist compasses existed during the war, and MAY have been used by paratroops, but certainly wasn't specifically designed for them. It was much smaller, about the size of a small wrist watch. It also had an OD green cloth strap that was unsuitable for wearing over clothing (too short). They are not really rare, but do usually fetch a nice price in auctions. I guess that's because they are such nice gadgets. The ones I have seen for sale with their orignal carboard box are all Navy issue. The one in the picture below has the following marking on the back: R-88-C-89O.
Reproductions
I am not sure if this is good news or bad news, but the reproductions are getting better and better. What Price Glory is selling copies of both the Taylor and Superior Magneto models. Unlike their other merchandize, these aren't marked 'WPG' and have full makers' marks, as can be seen in the pictures below.
The main difference with the originals is the compass needle. The colors are really off. The needles also aren't liquid dampened, but it's rare in any case to find a compass still retaining its liquid. A seam runs across the back of the Taylor model, which you wont find on an original, but which can probably be polished away.
These pictures don't show the wrist traps, which can be purchased seperately.
In March 2008 I visited the newly opened section of the WWII hall at the Army Museum in Brussels. I really recommend you go there. The displays are awesome. For example, they have this paratrooper you see in the picture below, set to jump from the door of a C-47. The display is very nicely made and the paratrooper uniform and equipment all seem authentic. The uniform looks original to me, but it should have been of the reinforced type for a D-Day display. More disturbing though is the WPG repro wrist compass. You can tell by the green compass needle. It really is a pity, because original compasses can still be found at a decent price. I should add here that this article was brought to the attention Commander Mathieu of the museum. He sent me an e-mail to say that the mannequin did have an original compass, but that it had been stolen! Of course it could have been replaced by another original, but probably only to be stolen again…
You can contribute too:
This article describes the wrist compasses that I own or have pictures of. There is virtually no literature on this subject, so you are welcome to contribute with any additional pictures and information you may have. I am particularly interested in pinning down the end dates of manufacture of both makes.