I just came across this piece of Airborne arsenal I somehow missed over the years. It appeared in the 1944 issue of Recognition, a US Army publication with photos to train troops to recognize allied and axis vehicles, planes and ships. This particular issue focussed on US armor. In 1941, the Army set out the development of a so-called Airborne Light Tank that could be airlifted and dropped with parachute troops.
The main requirements of the tender were that the tank should use the existing standard 37mm gun and should weigh no more than 7.5 tonnes (to give you an idea: the M4 Sherman weighed 30 tonnes, the M3 Stuart 13 tonnes).
Three manufacturers responded to the call for tender, and Marmon-Herrington was selected to build the first prototype, which was called the AirBorne Light Tank T9. The prototype was satisfactory and further prototypes were developed with the designation T9E1. The main changes being the changed shape of the turret and running gear, the reduction in the number of on-board .30 cal machine guns and the addition of hooks by which the tank could be suspended from an aircraft. Trials were made to deliver a T9E1 with a C-54, but for that to work, the turret would have to be removed. Needless to say, this solution wasn't workable in combat conditions. Nevertheless, even before finalizing the testing of the prototypes, the tank was taken into production. A total of 830 would be built, half of which went to the British. In august 1944, the tank's designation was changed to "Tank Light M22 Airborne".
The British were the only ones to actually use the M22 in combat. They named it the "Locust". The British had the advantage of having the larger Hamilcar glider that could deliver the M22 in one piece. This was done successfully in combat during Operation Varsity in March 1945.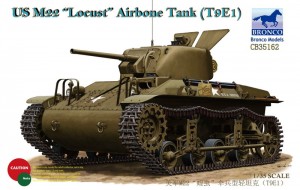 The Americans only used the M22 in training, both in the US and in Britain. None were actually air-dropped. Still, this has gotten me interested and I plan on building the 1/35 scale model made by Bronco. If anyone knows where I can buy one in Europe, please let me know. I can only find ads for it in China and Hong Kong. I'll end up paying more for shipping and customs duties than for the model itself.